Pinhole Surgical Technique™ Gaithersburg MD
What is the Pinhole Surgical Technique™?
The Pinhole Surgical Technique PST™ is a procedure in which Dr. Hadeed uses specialized instruments to make a small hole in your gum and add collagen material that stabilizes the area of gum recession. This new method is simple, suture-free, and minimally invasive.
PST™ was developed and patented by John Chao, D.D.S. It has been featured in the International Journal of Periodontics, one of the most prestigious dentistry journals in the world.
Are You Suffering From Receding Gums?
PST™ is a fast recovery, non-invasive procedure to reduce gum recession. Contact Aesthetic Laser Periodontics & Dental Implants for more information!
Why do we get gum recession?
While gum recession is usually viewed as one of the symptoms of gum disease, it can also be caused by insufficient tooth brushing, overly aggressive tooth brushing, or certain medications that can affect gum health. Gum recession can even be caused by orthodontic treatments and appliances like braces or retainers.
Why choose PST™?
Unlike gum grafting, The Pinhole Surgery Technique™ is minimally invasive and does not cut gum tissue, making it a much less painful option.
Gum recession was traditionally treated using a connective tissue graft, which "harvests" gum tissue from the roof of the mouth and then sutures it to the affected area. Connective tissue grafts have a recovery period of up to three weeks and patients often experience side effects including gum pain, swelling, and bleeding.
Palatal tissue grafts (tissue taken from the roof of your mouth) also have a different esthetic appearance than normal gum tissue, as the color and texture of roof tissue do not match that of your gums. Other methods, such as using donor tissues, may require intricate suturing, leading to possible complications and infection.
Benefits of Pinhole Surgical Technique™
Non-invasive
Reduces the side effects of gum surgery (bleeding, swelling, gum pain)
Near-immediate cosmetic improvement
Incision and suture-free
Accelerated recovery
One visit can treat multiple areas of recession
If you have any concerns about possible gum recession or are worried about the side effects of gum grafting, contact our office today to schedule an appointment. We will be happy to discuss the details and benefits of The Pinhole Surgical Technique PST™.
* Chao Pinhole Surgical Technique®™ and PST®™ are registered trademarks of John Chao DDS MAGD, 2008
Click to View Our Before & After Photos
---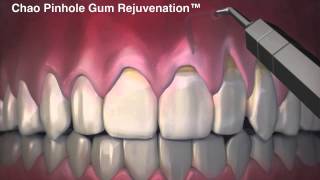 ---
Patient Reviews for Cosmetic Pinhole Surgical Technique™
> Read all Reviews
> Write a Review

Aesthetic Laser Periodontics & Dental Implants
5
out of
5
stars based on
6
Pinhole Surgical Technique™ reviews.
---
Patient Testimonial
I had been having some gum recession along my "upper right quadrant", and I found Dr. Hadeed because he is in the same office as my regular dentist. After meeting with Dr. Hadeed, he recommended the Pinhole Surgery Technique. I didn't get a second opinion and moved forward with the procedure with Dr. Hadeed after putting it off for several months. During that time Tracie and Dr. Hadeed answered all my questions and were so patient and understood why I was hesitant. It turns out I had nothing to fear. Dr. Hadeed and Tracie are such a professional, caring and compassionate team. During the procedure each of them was so communicative, and Tracie is an excellent hand holder! 🙂 Once the procedure was over Dr. Hadeed took much time in going over the post-surgical recommendations and making sure I knew I could call him at any time. It's been one week since I've had the procedure, and the recovery has been excellent. I'm feeling great, except for minimal swelling. And I mean minimal. I highly recommend Dr. Hadeed and Tracie to anyone looking to correct gum recession. They are lovely to work with and beyond caring. After the procedure Dr. Hadeed checked in with me via text multiple times a day for several days. I sent him several pictures of the surgical area so he could see how I was recovering. Love this team so much! Thank you for an excellent experience. I truly wouldn't go to any other periodontist for this type of treatment.
- Judy S
5

out of

5

stars
by
Judy S
on
Patient Testimonial
I have had significant periodontal issues for years, and have had a number of bad experiences with different periodontists. So you can imagine my reluctance and trepidation when I first met Dr. Hadeed and Tracie (the two of them are truly team, and their partnership is a differentiator). Dr. Hadeed and Tracie put me at ease from the very beginning. Dr. Hadeed is analytical, thorough, and precise. He explained to me what he was thinking at every step of the process, and always had time to answer my questions and address my concerns. The procedure (a pin-hole procedure) went flawlessly, and Dr. Hadeed and Tracie were as warm and accessible during the recovery period as they were during the analysis and planning period. Ultimately, the procedure was a success. Dr. Hadeed is a skilled practitioner and Tracie is his able partner and technician. The two of them are caring, empathetic, and communicative. I wholeheartedly recommend the two of them without hesitation. (In fact, when the time is right, I will return to have them perform the procedure on the other side of my mouth!)
- Brian L
5

out of

5

stars
by
Brian L
on
Patient Testimonial
Dr. Hadeed is patient and kind. He takes the time to think about the best course of action for each patient and takes the time to explain what and why. I definitely recommend Dr. Hadeed's practice to anyone.
- Nancy R
5

out of

5

stars
by
Nancy R
on
Patient Testimonial
I've been through three complex surgeries to date and had minimal post-operative discomfort. The final results were superb!
- Matthew F
5

out of

5

stars
by
Matthew F
on
Patient Testimonial
Dr. Hadeed and Tracy were excellent for both pinhole procedures I had with them. Before my procedure, they took the time to explain the whole process in detail, show me where they would be operating, and answer any questions I had. They were attentive to my needs during the entire surgery and constantly checked to make sure I was ok. During the follow-ups, they were just as courteous as they were during the surgery. I am very pleased with the results of my procedures and would highly recommend them to a friend.
- Thomas B
5

out of

5

stars
by
Thomas B
on
Patient Testimonial
I couldn't ask for a better health care team! Dr. Hadeed went out of his way to explain the pin hole procedure for gum restoration and my other options and answer all of my questions. On the day of the procedure, Dr. Hadeed didn't schedule any other patients after me so that I could have his full attention and that he wouldn't be rushed through the procedure, giving me all of the attention and time that I needed. He called me the morning of the procedure to make sure I remembered to do all of my pre-surgery prep correctly and called me after the procedure to make sure things were going smoothly. Sometimes when you go to the doctor you feel like a specimen, Dr. Hadeed and Tracie make you feel like your part of their family. It's clear that they really care about me and my dental health and about building a long-term relationship with their patients.
- Diane M
5

out of

5

stars
by
Diane M
on